In the lush Victoria Falls forest where animals roam freely, a group of Chinese tourists are impressed by a gigantic female baboon carrying its offspring. The group scurry for cover as a herd of elephants approach them.
"It is their first time here and they are enjoying every moment. Sadly, most of them acknowledge that three years ago, they had never heard about Zimbabwe," said their tour operator Godknows Homwe. Victoria Falls is the country's premier tourist attraction and a UNESCO World Heritage Site.
"We have witnessed an upsurge of Chinese arrivals in the last two years and most of the hotels are booked by Chinese," said Homwe.
The tourists are part of a growing number of Chinese who are making Zimbabwe their destination of choice, thanks to a raft of initiatives undertaken by the Zimbabwean and Chinese governments, the most important of which is the relaxation of visa requirements by issuing visas upon arrival for Chinese tourists. Other initiatives include making Chinese part of the curriculum for students studying in Tourism and Hospitality with the
University of Zimbabwe – this will improve communication with Chinese tourists – as well as relaxed requirements for Chinese nationals who want to invest in Zimbabwe's tourism sector.
Investment in tourism
Zimbabwe's tourism sector is on a recovery path with official data from Zimbabwe Tourism Authority showing that the country received 2.4 million tourist arrivals in 2017. This represents a 12 percent increase from the 2.1 million arrivals in 2016.
"China is now dominating our Asian tourism arrivals. Over the years, Japan has been a key player in supplying tourists to the country but has now been surpassed by China. We are expecting over 20,000 Chinese nationals by [this] year end," said Zimbabwe Tourism Authority chief Karikoga Kaseke.
Amy Hong, an official with the Chinese Embassy in Zimbabwe said the visa on arrival policy is definitely an effective way to attract Chinese visitors. "Two of my former schoolmates came to Harare just yesterday (September 25) because of the visa on arrival policy," she said, giving personal testimony to how this convenient system can motivate visitors who would not normally consider traveling to the country.
While Chinese tourists are on the rise, Chinese investors in the country's tourism sector are grabbing the spotlight.
Zimbabwe and China have started implementing objectives of a $1.2-billion-tourism investment deal aimed at increasing facilities within the country's tourism and hospitality industry. The deal is expected to contribute meaningfully toward national economic revival, growth and development, according to experts.
"When we talk about Chinese tourism investment in Zimbabwe, we are talking about billion-dollar investments," said Zimbabwe's Minister of Tourism and Hospitality Industry Priscah Mupfumira.
Mupfumira said as part of the implementation of the deal, Chinese firm Touchroad International Holdings Group brought a team of Chinese investors to Zimbabwe in July this year. Touchroad is a multinational business with interests in international trade, investment, cultural exchanges, tourism, industrial development of parks and construction of special economic zones.
The firm was founded in 2000 by current Chairman He Liehui, after he traveled to Ghana on his maiden voyage to Africa.
According to a mission statement from 2014, Touchroad is involved in business in some 20 African countries. Touchroad's Africa Center in Shanghai houses more than business interests, it's also the location of numerous African consulates in the city.
"In fulfillment of an agreement made in May when Zimbabwean President Emmerson Mnangagwa visited China, Touchroad brought a business delegation to Zimbabwe which expressed interest in tourism development in Victoria Falls and elsewhere in the country," said Mupfumira.
She said that the Chinese delegation offered to bring experts to shoot a video to promote Zimbabwe in China.
The Chinese Government subsequently sent a delegation in July this year to film a documentary based on all major tourist sites in the African country, aimed at marketing Zimbabwe tourism during the Conference of the Chinese and African Entrepreneurs that was held in September this year.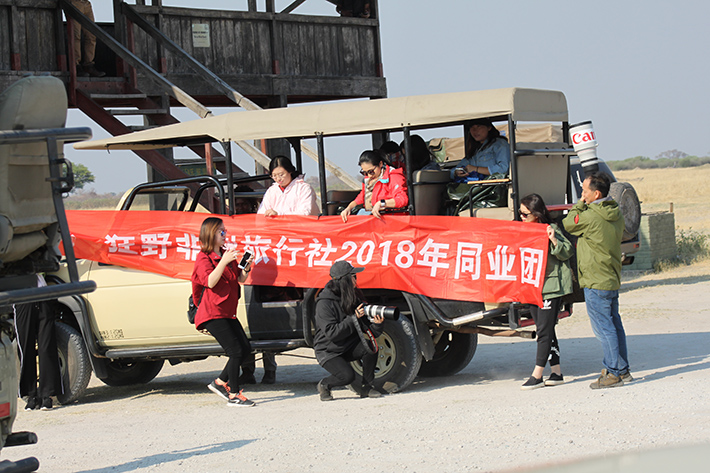 Chinese tourists in Zimbabwe (COURTESY PHOTO) 
Raising awareness about Zimbabwe 
In addition to the video shown at the Conference of the Chinese and African Entrepreneurs, which formed part of the 2018 Beijing FOCAC Summit, the agreement included the shooting of a promotional video on tourism in Zimbabwe for the Chinese market, with the help of a Chinese radio and TV group. This focused more on raising public awareness of the country and its attractions.
"The Zimbabwean Government is implementing an aggressive marketing strategy, aimed at boosting the tourism industry, while at the same time, aiming to unlock investment opportunities in the industry," said Kaseke, adding that the promotional videos did wonders for marketing the country in China.
According to Hong, China is an integral part of the Zimbabwean Government's strategy, as the country was involved in many tourism infrastructure initiatives.
"The Victoria Falls Expansion Project was constructed by China Jiangsu International Economic and Technical Cooperation Group Ltd., and it helps Zimbabwe improve the capacity of attracting tourists [to this major attraction]. [The company] will do the [renovations on] the Robert Mugabe International Airport [in the capital Harare] which [will] boost Zimbabwe with [increased] arrivals," she said.
Mupfumira also revealed that a consortium of Chinese billionaires has also proposed to build a Tourism City in Zimbabwe. The new Tourism City will be located either outside of Harare or in Bulawayo, the country's second largest city in the south.
"The Tourism City to be developed will require an investment of about $7 billion and the city will be bigger than the Harare Central Business District. The investors are determined to invest," said Mupfumira. It will be along the lines of the popular Sun City tourist venue in neighboring South Africa.
Furthermore, China has committed to assist in expanding tourist facilities in Victoria Falls, which was first proposed in 2013 as a multi-million-dollar park with hotels, entertainment parks and restaurants.
Zimbabwe Vice President Constantino Chiwenga commissioned a $1.2-billion project in September for the construction of a convention center, shopping mall, medical center and Grand Prix venue at the Victoria Falls. The tourism authority wants the area to become a "regional hub" for foreign visitors to Southern Africa; Victoria Falls itself lies on the border between Zimbabwe and Zambia, and is also close to Botswana, which is popular with foreign tourists undertaking safaris.
Source: VOL.10 November ChinAfrica ·2018-11-09
×
Sorry! The Author has not filled his profile.